Webinar: How can banks master the power of AI to personalize customer experience (CX)
Topic
Leveraging data has been quite challenging for banks due to the diverse landscape of systems they usually operate. With the fast evolution of artificial intelligence (AI), the adoption of data is now widely accepted as the next big wave in the digital transformation.
IBM has built its Cloud Pak for Data with simplicity in mind. It's a unified platform that empowers banks to fully operationalize AI and go beyond the manual data wrangling and the AI proof of concept phase. IBM Cloud Pak for Data covers all stages of the AI journey – from collecting and organizing data through analyzing it to infusing AI within its business processes.
Stepping on this solid foundation delivered by IBM, BULPROS has developed Digital Banker – a solution that empowers retail banks to infuse AI within their customer experience and deliver great private banking-level of service to all their customers. It helps to understand the complete financial life of the customers, infusing valuable insights and advice within the CX, assisting instantly 24×7 with AI-driven conversation and connecting customers to the right banking expert over video when empathy is needed. Digital Banker can also provide concierge feeling with third-party services and automate any customer and employee task.
BULPROS has recently become the first IBM partner in EMEA to receive a Build Competency for Banking and Financial Services. Moreover, BULPROS is among the first ISVs to work on certifying its solution Digital Banker on the IBM Cloud for Financial Services, the new public cloud offering for banks, providing a highly secure and compliant environment.
BULPROS and IBM would like to invite you to this webinar for an insightful discussion on how banks can leverage IBM Cloud Pak for Data and BULPROS Digital Banker in transforming their CX through AI.
Agenda
What are the main challenges in implementing AI and how to address them effectively?

 Eduardo Angulo, IBM (20 min)

 

What are the current trends in digital CX?

 Radoy Stoyanov, BULPROS (5 min)

 

How can banks deliver one-to-one personalization

? Radoy Stoyanov, BULPROS (10 min)

 

Q&A – Eduardo Angul

o and Radoy Stoyanov (10 min)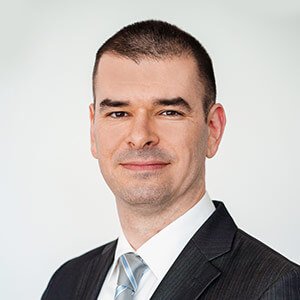 Radoy Stoyanov
Business Development Manager Digital Solutions, BULPROS
Radoy is a former C-level banking executive in IT, Operations and Marketing for more than 10 years, and a software consultant for another 10 years. He has spent the last 3 years advising and delivering digital transformation projects at banks, insurers and FinTech startups. He specializes in digital business models, digital customer journeys and user experience, Open Banking, PSD2 and API economy, mobile wallets, payments, loyalty, AI, as well as cloud native architectures.
Information Architecture Partner Ecosystem Leader, IBM Cloud and Cognitive Software, EMEA
Eduardo is a senior sales professional with over 25 years' experience leading digital, face-to-face and channel sales teams. He has broad experience in sales management and business development, and in Partners and Alliances, both from the vendor's and from the business partner's perspectives. Eduardo has spent the last 7 years managing the channel business for IBM Collaboration Solutions, IBM Talent Management Solutions and, since 2019, for IBM analytics software (Information Architecture and IBM Cloud Pak for Data).